OPENING HOURS
Tuesday to Sunday, Closed on Mondays.
10:00 to 18:00 (summer), 10:00 to 17:00 (November 15 to March 16).
---
ADMISSION INFORMATION
- Standard Admisssion: 60 RMB
- Advance Online Booking: 50 RMB

(Advance online ticket sales end at midnight the day of visit. Please present your booking information at the ticket counter to collect your ticket.)
- Discount Price: 35 RMB
(children over 12-years-old, middle school students, full-time professors, people with disabilities, military personnel, adults aged 60 and above.)
- Group Ticket: 40 RMB/ Per Person
(for groups of 10 or more when booked in advance. )
- Guided Tour: 100 RMB (1-30 people)/ 200 RMB (over 30 peolple)
- Reservations: +86 10 64322663
- Free: Under-12s, adults aged 70 and above, Three Shadows' members.
---
ADDRESS & MAP
Beijing City, Chaoyang District, 155A Caochangdi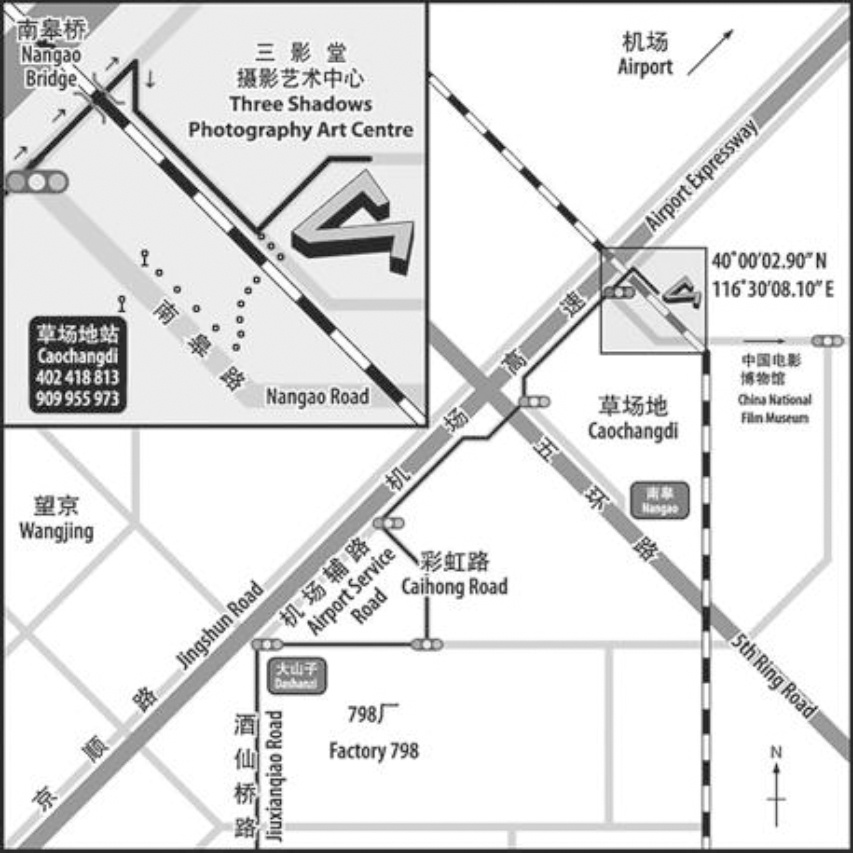 Call: +86 10 64322663
Zip code: 100015
Public Transport
By subway+bus: Line14-Jiangtai Station/ Wangjingnan Station, then transfer to 418/402/973/851/854-Caochangdi Stop.
Three Shadows Photography Art Centre is next to the intersection of the northeast 5th Ring Road and the Airport Expressway around 2 km from 798 Art Zone.
There is convenient transportation to and from Sanyuan Bridge or the airport.