OPENING HOURS
Beijing
10:00 to 18:00 (summer), 10:00 to 17:00 (November 15 to March 16)
Tuesday to Sunday, Closed on Mondays
Xiamen
9:30 to 17:30, Tuesday to Sunday, Closed on Mondays
---
ADMISSION INFORMATION
Beijing
- Standard Admisssion: 60 RMB
- Advance Online Booking: 50 RMB

(Advance online ticket sales end at midnight the day of visit. Please present your booking information at the ticket counter to collect your ticket.)
- Discount Price: 35 RMB
(students, full-time professors, people with disabilities, military personnel, adults aged 60 and above)
- Group Ticket: 40 RMB/ Per Person
(for groups of 10 or more when booked in advance. )
- Guided Tour: 100 RMB (1-30 people)/ 200 RMB (over 30 peolple)
- Reservations: +86 10 64322663
- Free: Under-12s, adults aged 70 and above, Three Shadows' members.
Xiamen
- Standard Admisssion: 30 RMB
- Discount Price: 20 RMB
(students, full-time professors, people with disabilities, military personnel, adults aged 60 and above)
---
ADDRESS & MAP
Beijing
155A Caochangdi, Chaoyang District, Beijing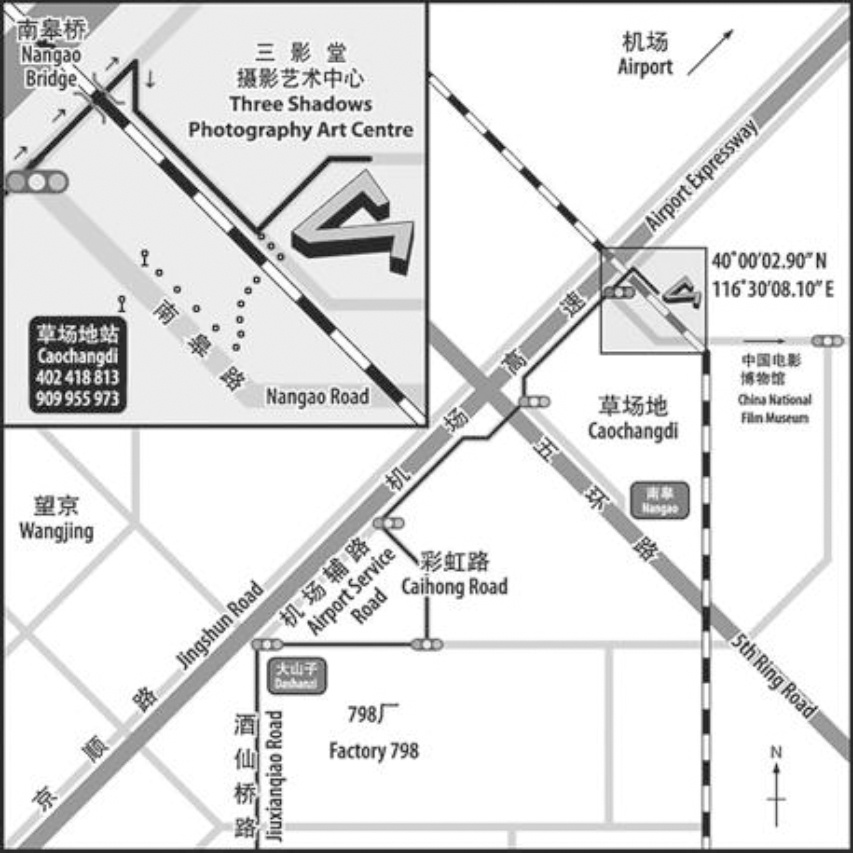 Tel: +86 10 64322663
Public Transport
By subway+bus: Line14-Jiangtai Station/ Wangjingnan Station, then transfer to 418/402/973/851/854-Caochangdi Stop.
Three Shadows Photography Art Centre is next to the intersection of the northeast 5th Ring Road and the Airport Expressway around 2 km from 798 Art Zone.
There is convenient transportation to and from Sanyuan Bridge or the airport.
Xiamen
No. 301, Building 2, Xinglinwan Business Center, Jimei District,Xiamen, Fujian Province
Tel: +86 592 6372133
Public Transport
Xiamen North Railway Station: Metro Line 1, From Exit 2 of Xiamen North Railway Station to Guanren Station (after 5 metro stations ), then take 3 minutes' walk [13 minutes for the whole journey] [About 20 yuan by taxi]
Xiamen Gaoqi International Airport Terminal T3: 947 bus direct, from Tai Gu Shu She Zhan (Taigu Dormitory Station) boarding to Ji Mei Shi Min Guang Chang Zhan (Jimei Citizen Plaza Station) getting off, 380 meters on foot.
Xiamen Gaoqi International Airport Terminal T4: 949 Bus/948 Bus, from T4 Terminal to Xing Lin Wan Yun Ying Zhong Xin (Xing Lin Bay Operating Center), after 8 Stations, then get off and walk 400 meters to destination.