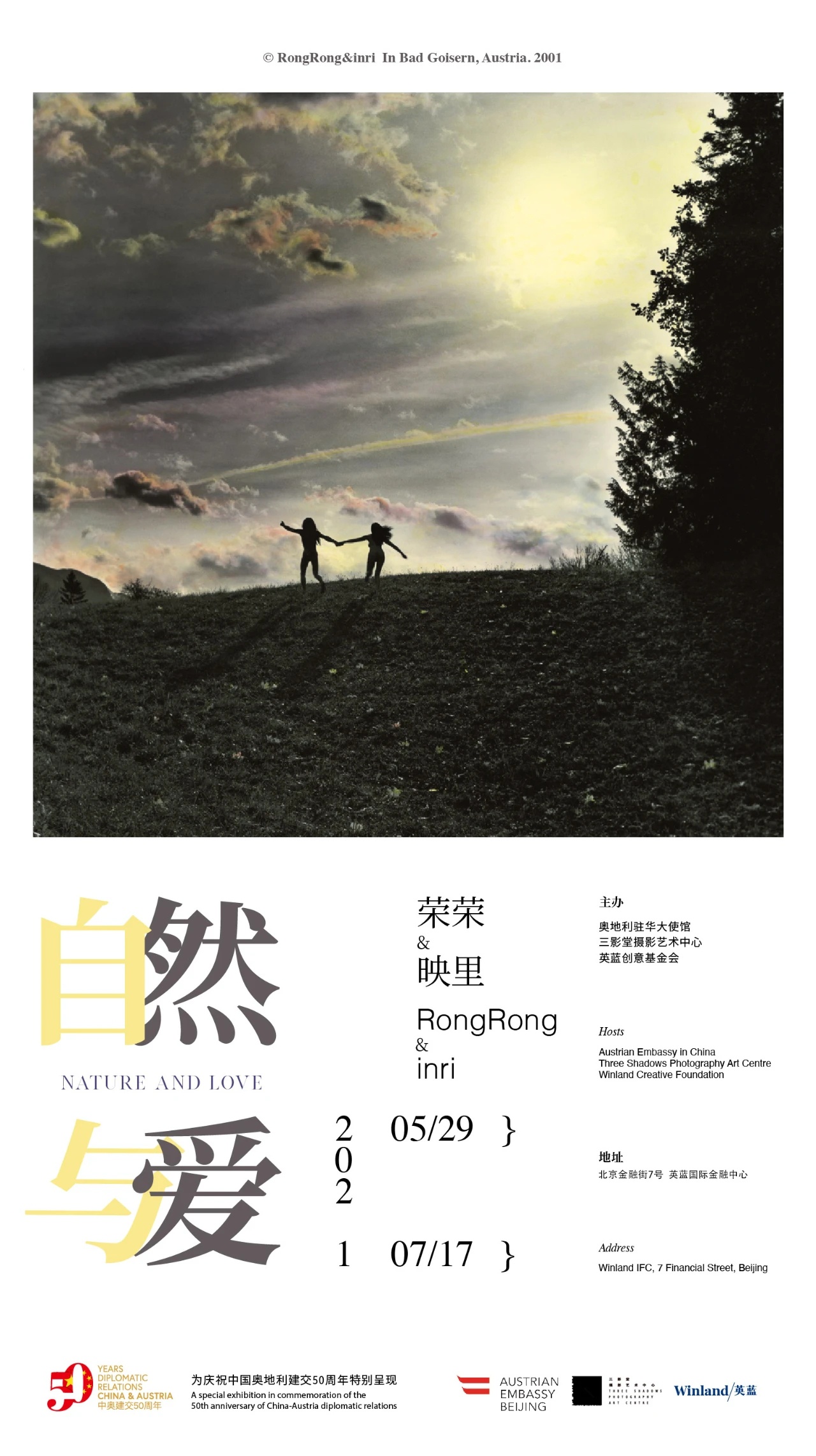 A Special Exhibition in Commemoration of the 50th Anniversary of China-Austria Diplomatic Relations :"Nature and love" by the Duo Artists RongRong&inri was on Show Yesterday !
Nature and Love
Artist
RongRong&inri
Organizer
Austrian Embassy in China
Three Shadows Photography Art Centre
Winland Creative Foundation
Location:Winland IFC, 7 Financial Street, Beijing
Duration:29 May 2021 - 17 July 2021
In commemoration of the 50th anniversary of China-Austria diplomatic relations , the "Nature and Love" ,RongRong&inri photography exhibition opened yesterday at the Winland International Financial Centre on Beijing's Financial Street. Li Haifeng, former Vice Chairman of the National Committee For the Chinese People's Political Consultative Conference, Cai Wu, former Minister of the Ministry of Culture of the Oeople's Republic of China, Chen, former Secretary of the state organs work committee of the cpc, representatives of UNESCO, Ambassadors of Austria, Germany, UK, Italy, Switzerland, Colombia, UAE, Cambodia, Finland, Netherlands, Greece, Russia, Belgium, Portugal, Luxembourg, Slovakia, Romania, South Korea, Thailand, Iceland, Saudi Arabia, Syria and other countries in China. More than 400 Chinese and foreign guests visited and attended the Winland Summer Concert. Artist RongRong gave a guided tour to the Austrian Ambassador to China, Friedrich Stift, and other guests.
RongRong explained during the tour, "It has a special meaning for us to exhibit our works created in Austria on such a memorable day as the 50th anniversary of diplomatic relations between Austria and China, as 20 years ago, we spent three unforgettable months in Austria as part of the artist residency at the Austrian Chancellery. The wind, clouds and grasses of the Alps opened up a whole other world for us. We also benefited a lot from the local photography institutions, the rich collection as well as their cultural events."
Ambassador Stift inscribed the exhibition with the following words:
"I am deeply impressed by the great works of the artists RongRong&inri. They wonderfully captured the nature and love."
——F. Stift Ambassador of Austria
The Winland Summer Concert then followed, with speeches addressed by Ambassador Stift and Chinese Vice Foreign Minister Ma Zhaoxu. Chairman of Winland Group Yu Zhiqiang said, " 'Nature and Love' contains the photographic works created by the duo artist RongRong&inri with the background of the Austrian Alps, and the ancient Great Wall beacon in Jiayuguan, China, creating echoes and dialogues between the two. This is a good example of the cultural exchange between Austria and China."
About Artist
RongRong&inri
RongRong (China) and inri (Japan) have been working together since 2000. Their works reflect the intimate world that they have created together and push the boundaries of traditional black-and-white darkroom techniques. Their critically acclaimed series of works, such as Mt. Fuji (2001), Liulitun (1996-2003), and Tsumari Story (2012-2014), reflect their shared life and surroundings, delving into the rapidly changing world around them.
In 2007, RongRong&inri established the Three Shadows Photography Art Centre in the Beijing Caochangdi Art District. In 2008, they launched the annual Three Shadows Photography Award (TSPA), a prize aimed at discovering and encouraging China's most promising young photographers. In 2010, they started a collaboration with the Arles International Photography Festival (Les Rencontres d'Arles) and co-produced the Caochangdi Photo Spring Festival in Beijing for three years - from 2010 to 2012. They have continued this collaboration at Three Shadows' Xiamen location, where since 2015 they have co-hosted the Jimei x Arles International Photo Festival. RongRong&inri received the Outstanding Contribution to Photography prize at the 2016 Sony World Photography Awards, recognized for both their careers as artists and their significant impact on Asian photography.
May 30, 2021